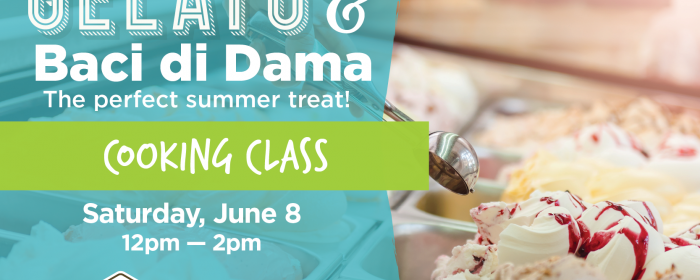 Gelato and Baci di Dama! The perfect summer treat!
to
As the warmth of summer arrives, it's time to cool off with some home made ice cream - so let's make some Italian gelato! In this class, you'll learn all about gelato and the core principles it takes to make a great gelato.
Charlie Douglass, former master chocolatier at Harry & David, will dive into how to create a chocolate dipped gelato pop, and demonstrate how to make Baci di Dama, a delightful hazelnut shortbread sandwich cookie with a Nutella-like filling. Recipes will be provided for Gelato and Baci di Dama, and you'll learn about dipping and layering chocolate as well. Bring your sweet tooth and a healthy dose of curiosity!
Refund Policy
Please note that we cannot issue refunds for missed classes or cancellations that are made within 48 hours of the class.

Instructor:
Charlie Douglass, Chocolatier for Harry and David
Charlie has always had a fascination for cooking. He views it as just  another way to enter into the world of creativity. His professional training includes classes at the French Pastry School on Chocolate and Baking. Charlie is a third generation chocolatier and apprenticed with a Swiss candy maker. Besides his long time position as Research and Development Manager for Harry and David, he serves as Treasurer on the Co-op's Board of Directors. In his free time he enjoys carpentry, especially using 'green' building materials, gardening and jet setting for adventurous food travel. 
More Cooking Classes